Clean Break's 80 minute production of Thick as Thieves, performed at the Salisbury Playhouse on 9th November, contains astoundingly relevant yet dark themes. The play sensitively explores: class divide, childhood trauma, neglect, expectations of motherhood and the difficulties that can be found within the care system. These issues are too often harshly judged in the UK's current austere society, which is why it's so important that Wales Drama Award winning playwright, Katherine Chandler, astutely calls them to the audience's attention. Róisín McBrinn's minimalist directing, hauntingly portrays the afflicted, courageous characters Gail (played by Polly Frame) and Karen (played by Siwan Morris) to clash in their polarised status' and situations, yet connect by their past, anguish and vulnerability. In addition to this, with Clean Break being the only woman's theatre company of its kind, set up in 1979 by two female prisoners, who believed that theatre could bring the hidden stories of imprisoned women to a wider audience – the performances complex exploration of women and crime gives an added layer of imperative meaning.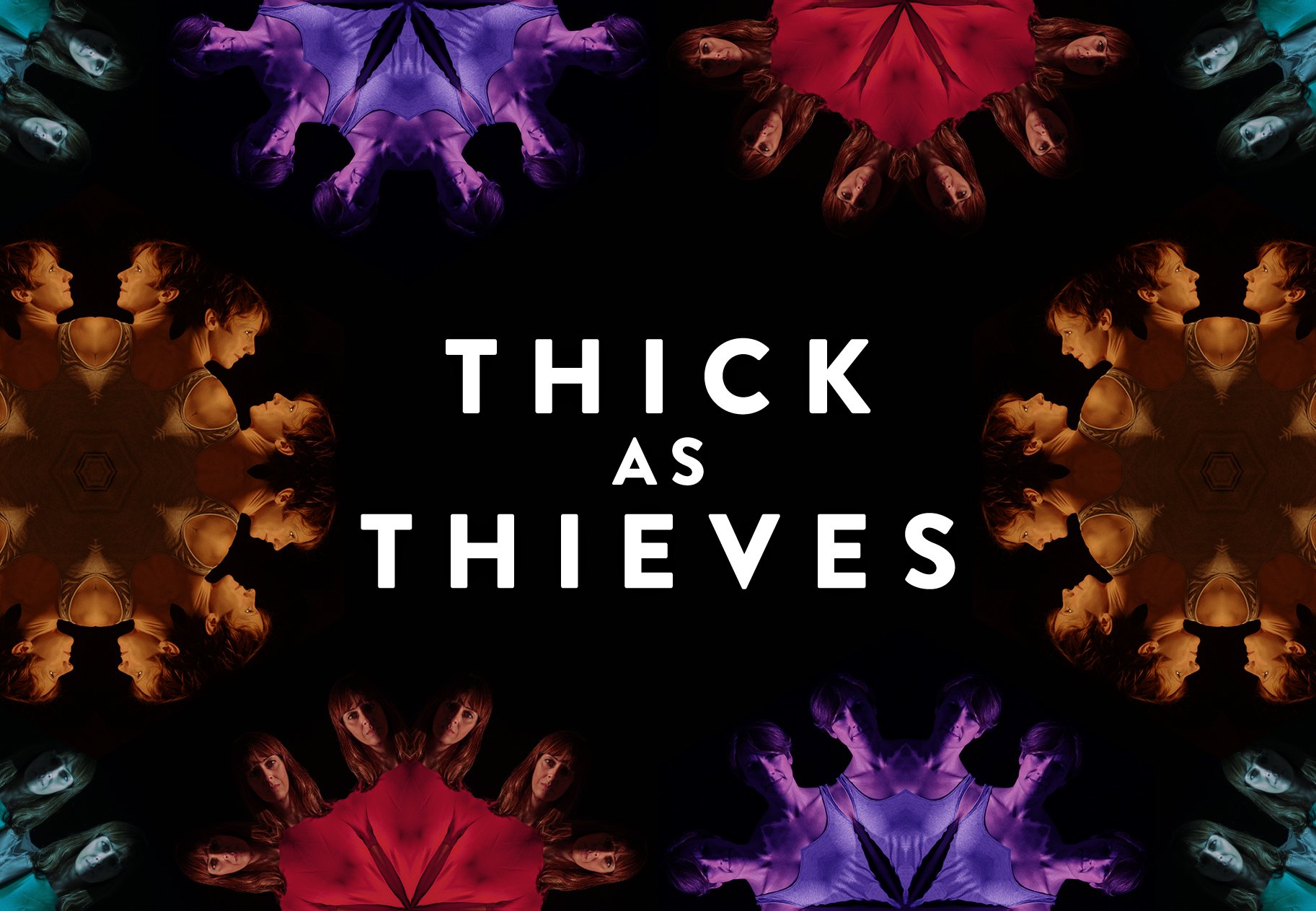 Katherine Chandler's writing explores the psychological effects of trauma. This is demonstrated in different financial circumstances by Karen, a middle class case worker in the child protection sector and Gail, an unemployed, working class woman struggling to keep her family together. Despite the solidarity both characters share in terms of their suffering mental health, Thick as Thieves shows how the offering of opportunities and support in life can lead you to become secure and generally less likely to be re-traumatised or experience the criminal justice system. A poignant line for me was when Karen nobly states 'I've worked hard' to which Gail corrects 'you've been lucky, Kaz' challenging the capitalist idea that we earn our fate, rather than become subjected to austerity. Considering that 'children's services face [a] £2bn funding shortfall be 2020' public funding cuts are a very real threat to disadvantage families. A report from The Association of Directors of Children's Services claims:
'Sustained reductions in our funding has limited our ability to step in early and offer help despite recognition that this, coupled with pressures in other public agencies, especially the NHS and police, severely diminishes our ability to step in and prevent problems from escalating to crisis point. ADCS believes this is contributing, in part, to the rising number of children coming into our care' (Michalska, A. Impact of austerity on children's services, 2017)
As Chandler has been an in-house writer for Clean Break, the piece is based on her prison visits and presence in workshops held for members of the Applied Theatre company. In an Advanced Theatre workshop that I assisted recently, members generally agreed that the piece provided an accurate representation of the difficulty it reflects in reality. What makes the play all the more relevant is the context that it has been written in. As awareness is raised of the many vulnerable women's life experiences that are otherwise generally stigmatised by Britain's mainstream media.
McBrinn creatively exaggerates the power dynamics between both characters by using a pivoting stage. The faded echoing music of Nina Simone added another level of haunting poignancy and significance, because this singer had to fight serious oppression and adversity in her troubled lifetime.
In terms of acting, Karen's wide eyed expression displays her utter shock at the revisiting of her past, making her outbursts of rage easier to sympathise with. The cunning yet loving Gail is bravely playful in her raw energy, plagued by loss and fighting in survival mode. These characters are shown to be at times defended and at others completely unguarded, which intrigues and disturbs the audience.
This play may give you goose bumps, jerk tears, intrigue you but it will most definitely move you and certainly get you thinking. Clean Break's website states 'A women's theatre company changing lives and changing minds – on stage, in prison and in the community.' I want to spill out how certain crucial moments of Gail and Karen's unfolding relationship made me feel, but I can only urge you to go and feel it for yourself.
Here's where you can book: http://www.cleanbreak.org.uk/productions/thick-as-thieves/
References:
Clean Breaks website: http://www.cleanbreak.org.uk/
Michalska, A. 2017, Impact of austerity on children's services, [accessed: 14/11/18] Available from: http://adcs.org.uk/funding/article/impact-of-austerity-on-childrens-services
Kaleidoscope poster of Thick as Thieves designed by Sarah Ferrari